Survival Guides
Amazon.com offers a great selection of Survival Guides. Of course, there's an advantage to having an old-fashioned book should electronics stop working in a disaster.
Survival Guides from Amazon.com
With all of the natural and man-made disasters in recent years, it isn't surprising that more and more people are educating themselves about simple and also more advanced survival techniques. There are several great guides that are available for instant download. The advantage of an "e-book" is that you can search for the exact information you need without flipping through pages. Following is an overview of the Survival Guides we think are worthwhile.
Survive in Place is a great short-term membership site at a great price. For just $27 you get a three month membership where they send you lessons via email every week. Some weeks have audio interviews and videos as well. The lessons build on each other allowing you to build your solid yet flexible survival plan as you learn. He also discusses how to reunite your family, even if phones are down and you are miles apart.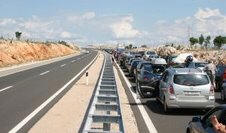 Their survival plan takes into account real world issues and concerns. Most of us aren't going to instantly round up the family and drive into the hills. They help you understand how to survive in your own neighborhood, when to leave urban areas, and how to make that decision when the time comes. They focus more on the plan than on "stuff". It won't matter if you have water purification tablets if your family forgot where you were supposed to meet. They help you devise a plan that is both flexible and easy enough for another adult to take over in your absence.
Author David Morris helps you learn how to build a small but reliable "team". Rather than broadcast what you're doing to the whole neighborhood, you'll want to avoid being looted or worse by being smart and discreet with your plan. The other great thing about his approach is that it is reversible. No one wants to throw their plan into action only to have an "all-clear" a day later. That's why a plan that can be rolled-back is so useful.
The Survive in Place manual/course offers a 60 day refund if you don't find it useful. We thought it was a great overall course for the price!
---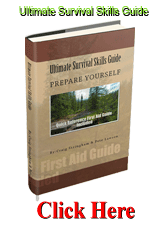 This e-book by a private pilot and decorated military veteran focuses more on actual skills you might need after a disaster occurs. Topics include finding shelter, food and water, and what to do in emergency situation such as a house fire. While they do discuss "2012" scenarios, the actual survival information is the same whether it's the "end of time", Hurricane Katrina or a volcano erupting in Iceland. Also included is a separate Quick Reference- First Aid Guide.
The Survival Skills Guide also has a 60-day money back guarantee.