Potomac Emergency Escape Mask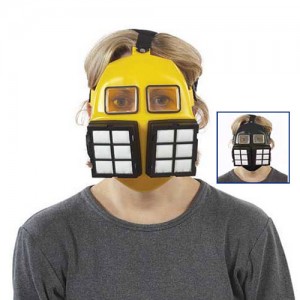 The POTOMAC® Emergency Escape Mask was designed to provide certified protection for biological and chemical terror threats – including anthrax, cyanide, sarin, and smallpox – by helsatech® of Germany, a leading manufacturer of nuclear, biological and chemical defense products for military and civilian use. There is no comparable product on the market today.
The 1995 chemical terror attacks in Tokyo – where combined cyanide and sarin agents were used – provided the impetus behind the intensive research and development of the unique, full-face, lightweight Potomac Emergency Escape Mask, providing emergency respiratory and eye protection.
The POTOMAC Emergency Escape Mask protects from toxic and lethal effects of biological/chemical terror meets or exceeds international performance standards.
Potomac Emergency Escape Mask – $180.95 from 1800prepare.com
ONLY POTOMAC
– is ultra compact – it fits in a purse or briefcase, so you can carry it anywhere
– is ultra lightweight – weighs less than 1/2 pound (220 grams) compared to others on the market, which average 10 pounds
– can be put on in 6 seconds – when every second counts
– has double activated military-grade carbon filters for optimum protection
UNIQUE FEATURES:
– Lightweight folded dual-filter design mask comes sealed in a compact foil bag that fits in one hand
– Silicone, facial-conforming, instant-fit mask body provides excellent sealing
– Two large filters accommodate high-volume air flow, allowing for heavy exertion and stress during an emergency escape situation
– Precision one-way exhalation valve maintains easy exhaling
– Excellent speech transmission; telephones, cell phones and microphones can be easily used
– No mouthpieces or nose clips that can hamper communication
– No claustrophobic feeling like with many hooded masks
– No dangerous, time-consuming caps to remove or filter canisters to screw into mask
– Anti-fogging eye lenses of rigid polycarbonate also provide impact protection
– One size fits most adults.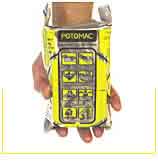 FOR YOUR SAFETY, YOU MUST READ THE USER'S MANUAL THOROUGHLY BEFORE USING THE MASK
Potomac Emergency Escape Mask – $180.95 from 1800prepare.com