Emergency Solar Hand Crank Weather Alert Radio, Flashlight, Smart Phone Charger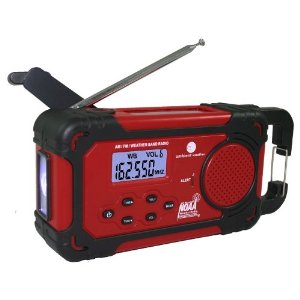 Just saw this great product on Amazon! Several of our regular readers have purchased this after Hurricane Sandy and so far I've heard great things about it. See more on Amazon.com
Seems like keeping cell phones charged was one of the biggest issues for people without power. For that reason alone this item is one of my current favorites.
The WR-333 is a Digital AM/FM NOAA Weather Alert Radio, a powerful 3 LED flashlight, and cell phone, (or anything USB) charger, all in one portable package.
The WR-333 is a six way charger – charge from a USB device (computer), AC or wall power (with optional converter), DC or car charger (with optional converter), 3x AAA batteries (not included), hand crank, or solar panel.
The WR-333 sets itself apart from other crank chargers – you can fully charge the WR-333 through the USB/AC/DC adaptor, and when you need it, charge the cell phone/mp3/mp4/USB with no cranking. Other crank chargers require continuous hand cranking to charge a device.
Emergency Solar Hand Crank Weather Alert Radio, Flashlight, Smart Phone Charger